♦ May Advertiser Spotlight ♦
AAA Housekeeping is the premier home and vacation rental cleaning service in Park City. We believe in providing affordable service and attention to detail while staying aligned with your vision. We work extensively with private homeowners as well as vacation rental property managers to create calm, clean, comfortable spaces. We want our clients and guests to relax and truly enjoy life in the mountains.
Take your list from "to-to" to "ta-da!" without lifting a finger? At AAA Housekeeping, we believe everyone deserves a beautifully clean home and we're here to help you make it happen.
"I enjoy the excellent, thorough job that AAA provides. I also appreciate their flexibility as to the days I request and even the time of day I sometimes ask for. I hear other friends' concerns about their cleaning services, but with AAA I have no problems with management communication or with their great crew." – Park City Newcomer Member, Park Meadows
As a family-run business, we are committed to our clients, our team members, and our community. We look forward to working with you!. Visit www.AAAHousekeeping.net for more information.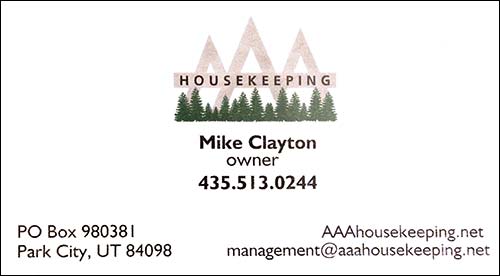 ---
We'd like to thank all our advertisers. Their support helps our Club succeed. We encourage all our members to visit their web sites and to stop by their businesses or contact them directly whenever you are looking for new products and services. We hope you will use our exclusive inventory of advertisers as your "Go To" list. We strive to patronize them whenever possible. Their support helps all of us and we would like to help them!