♦ October Advertiser Spotlight ♦
KMSKIN Anti-Aging Essentials. Kris Marcey is an Anti-Aging Aesthetician with a passion for transforming skin and reversing the signs of aging.
She began her career in the fashion industry as a professional makeup artist. While being recruited to work in that role by "Little House on the Prairie," she decided, instead, to return to the University of Utah to complete her studies in consumer marketing and fashion design.
After moving to California 20 years ago, she decided to continue her education in what she has always had a passion for, skin. She specializes in anti-aging treatments that really work.
Besides owning and operating her skincare business, she has also been an educator in Greater Los Angeles for Rhonda Allison, a pioneer in advanced corrective facials and chemical peels.
Most recently she created a simple 6-step professional skincare line, KMSKIN Anti-Aging Essentials, using only scientifically proven ingredients to intercept aging at its source.
She has great experience and a deep understanding of skin conditions of every kind. She utilizes a full range of skincare products and treatments to enable her to design a personalized skin care plan for each and every client. She is a passionate advocate when it comes to caring for people and her reward has been a loyal following of satisfied and happy clients.
For more information, check out her website: www.kmskinandbody.com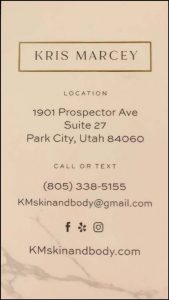 ---
We'd like to thank all our advertisers. Their support helps our Club succeed. We encourage all our members to visit their web sites and to stop by their businesses or contact them directly whenever you are looking for new products and services. We hope you will use our exclusive inventory of advertisers as your "Go To" list. We strive to patronize them whenever possible. Their support helps all of us and we would like to help them!